Kenya is one of the countries in Africa that, even when you merely say her name, will immediately conjure up visions of wilderness and adventure. While most people associate Africa with safaris and the vast plains of migratory beasts and birds that are popularized in documentary films and movies, there is much more to the continent and certainly more to the magical country of Kenya. Located on the Eastern Sub Sahara region, Kenya has coastline on the Indian Ocean and borders five countries: Tanzania, Sudan, Somalia, Ethiopia, Uganda.
Kenya has a diverse geography and topography and can be divided into four main regions: the Highlands in the center, the coastal lowlands and Lake Victoria region, the arid North and the southern Savannah. While the average temperatures in Kenya is a mean low of 22°C (72ºF) and a mean high of 33°C (91ºF), each of these regions has fairly distinct climates which makes travel in the country such a opportunity for different excursions and activities.
Kenya officially the Republic of Kenya, is a country in Africa and a founding member of the East African Community (EAC). Its capital and largest city is Nairobi. Kenya's territory lies on the equator and overlies the East African Rift covering a diverse and expansive terrain

The Arid North is the part of Kenya with the most extreme weather and can range from 40ºC (104ºF) during the day to 20ºC (68ºF) at night, often with rapid changes in temperatures as the sun rises and sets..

The Southern Savannah is known as a wet-dry climate with annual temperatures from 18ºC (65ºF) to 25ºC (77ºF).
The Central Highlands are a temperate climate and sees average temperatures from 10ºC (50ºF) to 26ºC (79ºF).
The Lake Victoria & Coastal Lowlands are hot and humid but the extremes are mitigated by the ocean winds.
Culture & Peoples of Kenya
Kenya is composed of peoples descending from over 70 traditional tribes with a smaller minority, yet very influential, population of Asian, European and Middle Eastern origins. Along the coast the settling of Arab, Persian and Bantu African peoples have created the Swahili people. While English is spoken in most urban areas and tourist destinations, it can be enhance your experience to learn some Swahili if you'll be traveling throughout Kenya and Africa. More than 90% of all Kenyans speak either Bantu or Nilotic so those are somewhat lesser known languages to study if you want to really enter into the world of the Kenyans.
Accommodation
Kenya offers many high quality hotels that meet western standards. Most Kenya tours patronize these hotels, which offer a full range of amenities in comfortable accommodations, including tent camps, international chain hotels, and 5-star luxury safari lodges. Luxury lodges are most common in major tourist destinations, including Nairobi, Lamu, Malindi, Lake Naivasha, Kisumu, Mombasa, and game reserves like Maasai Mara, Amboseli, Lake Nakuru, Tsavo, Aberdares, Samburu and Mount Kenya.
RV Road Trip has a list of 100 Things to do in Kenya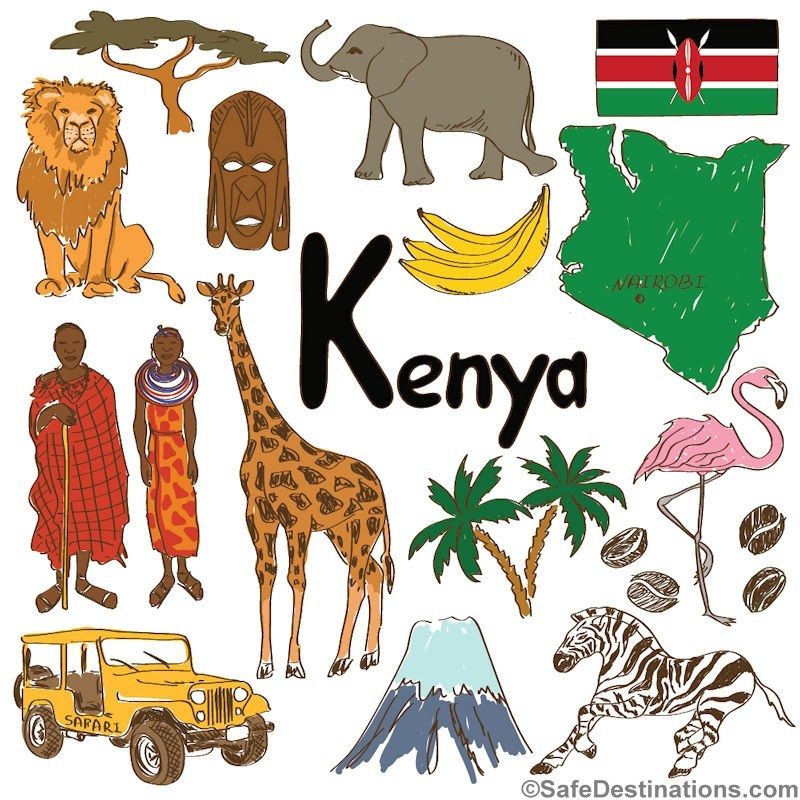 Nairobi National Park is the main attraction for visitors in this area of Kenya and is unique by being an amazing protected area with a myriad of birds and animals so close to a major city.
Nairobi National Park is key player in the support of the world Rhino population and is one of the few places where visitors can see live black rhino in their natural habitat. Accommodations range from 4-star hotels to safari style tent camping. unique safari destination.  There is nowhere else in the world like the thrill of camping in the heart of thick bush land right on the door step of the capital city.
Amboseli Park covers 392 square km and forms part of the much larger 3,000 square km Amboseli ecosystem immediately north-west of Mount Kilimanjaro, on the border with Tanzania. The National Park embodies five main wildlife habitats (open plains, acacia woodland, rocky thorn bush country, swamps and marshland) and covers part of a ancient, now dried, Pleistocene lake basin.
Amboseli is famous for its big game and its great scenic beauty – and the landscape is dominated by the towering peak of Mount Kilimanjaro.
Meru National Park straddles the equator and bisected by 13 rivers and numerous mountain-fed rivers and is is an especially beautiful area of Kenya. It has diverse scenery from woodlands on the slopes of Nyambeni Mountain Range, north east of Mt. Kenya, to wide open plains with meandering riverbanks dotted with palms.
Game to view includes: lion, elephant, cheetah, leopard black rhino, zebra, gazelle, oryx and some of the rarer antelope, Lesser Kudu and duiker, also the more common Dik Dik, one of Africa's smallest antelope. Large prides of lion can be seen and some of Kenya's largest herds of buffalo.
Over 300 species of birds have been recorded, including: Red-necked falcon, Heuglins courser, brown-backed woodpecker, sunbirds Peter's Finfoot, inhabiting the Murera and Ura Rivers; Pel's Fishing Owl, kingfishers, rollers, bee-eaters, starlings and weavers.
The Park is most famous as the setting for Joy Adamson's book "Born Free".
Kenya is one of the more competitive travel and tourism economies in the sub-Sahara region of Africa where, despite sustained economic growth, travel and tourism remains mostly untapped. Air connectivity and travel costs remain challenging in some countries but Kenya ranks high in the region, mainly driven by natural tourism. There is significant room for improvement in protecting, valuing and communicating cultural richness in the region and Kenya is becoming a positive influence for travel and infrastructure in the region.
Kenya, along with Ethiopia and South Africa, have been able to create strong state-owned air carriers. Some countries in West Africa rely on privately owned companies, while all other African countries still maintain unprofitable, inefficient and insecure publicly-owned national companies. Kenya along with the five countries with strong national carriers, private operators and small state-owned operators recently committed to a Single African Air Transport Market.
Kenya is ranked extremely high in the protection and importance they place on their natural resources, wildlife and culture. Kenya ranks 15th on the scale of 136 countries for their impressive natural resources which is a big factor in being such a magnetic destination for travelers.
Health and hygiene in Kenya doesn't rank so high on the international scale, only ranking 120th out of 136 countries for health service and hygiene. This has less of an impact on much of the tourist industry which has a high percentage of guests being in the more luxury tiers where high-end comforts and accommodations means that a high standard of health and comfort are offered.
Kenya has 3 World Heritage sites, thousands of animal and birdspecies and has a positive protection of over 12% of the lands which are dedicated to conservation.
Many African and other international airlines fly to/from Kenya. Bus travel is also possible, and the main land connections are out of Mombasa to Dar es Salaam and from Nairobi to Moshi and Arusha. Occasional ferries leave Mombasa for Zanzibar and Dar es Salaam. Travel to Uganda is also available via rail.
Visa
All travelers, except citizens of certain Commonwealth countries, require a visa to enter Kenya. Visas are available through the closest Kenyan Embassy or High Commission, and may be required prior to airline travel. For most nationalities, visas may also be granted upon arrival in Kenya.
To enter Kenya, your passport must be valid for at least three (3) months after entry to Kenya. These requirements are subject to change, and should be verified with your local Kenya Mission prior to travel.
Getting Around Kenya
Local flights are available between major cities and tourist destinations, including national parks and game reserves. Regular bus service is available between cities, and train travel is also possible, though not as reliable as air and bus services.
Within a city or between nearby towns, shared taxis, called "matatus", are popular. Kenya rental cars are also a reliable method of transportation; you may choose between self-drive and chauffeured service. In cities and between major urban areas, the roads are often good; in rural towns, off the main routes and in remote locations, road quality deteriorates. Traffic drives on the left side of the road.
Health
Anyone taking a Kenya tour should be up-to-date on all regular vaccinations: measles-mumps-rubella (MMR), diphtheria-tetanus-pertussis, varicella (chickenpox), polio, and the yearly flu vaccine. Additionally, most travelers should also consider vaccines against hepatitis A, hepatitis B, typhoid, yellow fever, meningitis (if traveling December–June), and rabies, as well as cholera and malaria preventions. If applicable, protection against STIs, including HIV-AIDS, should be taken.
Malaria is present throughout Kenya, although the risk is low in certain areas, including Nairobi. Nevertheless, malaria precautions are essential: talk to your doctor about anti-malaria medications, cover up when possible, and always use mosquito repellent on exposed skin. In high-risk areas, sleep under a mosquito net.
Yellow fever is a risk in Kenya, which is why travellers should be vaccinated. Please note that any traveller over the age of 1, and who enters Kenya from a yellow-fever area, must provide an international certificate of vaccination against yellow fever. Exemptions are made for visitors arriving from non-endemic areas such as Europe, North America, Australia and New Zealand.
Some freshwater lakes and rivers carry the risk of schistosomiasis (bilharzia), and travellers are advised not to swim or paddle in such areas. If you have a significant allergy or chronic medical problem, you should wear a medical alert bracelet. Major hospitals are located in Nairobi, Mombasa and Kisumu. Chemists (pharmacists) can be found in all major towns.
 
 Kenya shares land borders with 5 countries: Tanzania, Sudan, Somalia, Ethiopia, Uganda.
LINKS: www.magicalkenya.com
https://www.your-rv-lifestyle.com/things-to-do-in-kenya.html