Going on a Stress-Free Vacation When You're Short on Money and Time
by Holly Perkins for Safe Destinations
Going on vacation can be expensive. Airfare and hotel accommodations can cost a pretty penny. Many people don't have much time to spare for taking a vacation, either. But here's the good news: going on vacation doesn't have to break the bank or keep you away from your responsibilities for a long length of time. And as an added bonus, your body and soul will benefit from escaping for a few days, including reduced stress levels, improved cognitive functions, and making you feel and even look younger.
Here are some tips to plan the perfect vacation…even if you're short on cash and don't have much time to spare.
Travel During the Off Season
As you begin planning your dream vacation, forget about scheduling it during the peak season when everyone is making plans to go to popular vacation spots. Traveling during peak season means you're going to spend more money on airfare and accommodations. Instead of buying plane tickets and booking hotel rooms during the busiest travel season, be smart and travel during less popular times of year. You'll save both money and stress.
Discount Airfare
Want to find plane tickets that won't make you go bankrupt? Visit websites that help you search various airfares simultaneously. You'll compare flights and prices to get the best deal for your money. Need a domestic flight? Book it for a Wednesday–the cheapest day to fly. Do you love to sleep in? Change that habit fast, because the first morning flight is also the least expensive.
Discount Hotels
Some of the same websites that scour the internet to find you cheap airfare give you the scoop on quality, low-cost hotels too. After you identify some potential hotels, visit their websites to get a more accurate picture of the accommodations. You may even be able to land a better deal by booking your room through the hotel's official website. Want to save even more money? Look for promotional codes online and amenities such as free parking, WiFi and breakfast.
Since the goal is to achieve a stress-free, inexpensive vacation, consider choosing a hotel located in a less popular area, like a suburb of a big city where the prices may be easier to swallow than those of places downtown. You can visit local hotspots and tourist destinations while you're in town without paying a fortune to stay in the thick of them.
No Time for a Vacation?
If you think you don't have time for a trip, consider taking a weekend vacation to a nearby location. Maybe there's a quaint little town a couple of hours away that has a cozy bed and breakfast. Imagine yourself spending a Saturday afternoon in this little town shopping at local flea markets or sipping cappuccino at the local coffee shop. Maybe you love being in the great outdoors. If so, is there is a nearby state park where you can go camping or stay in a luxury cabin where you can get away from it all? Of course, a one- or two-week vacation is ideal, but if you feel you can't leave town for too long, a weekend getaway may be just the ticket.
Know When to Leave Fido Behind
If you're a pet parent and opt for a quick trip of only a few days to a nearby destination, it might make sense to bring your fur child with you. There are more pet-friendly places to stay than ever before, and many of them don't charge extra fees when you have a fuzzy friend in tow. Of course, traveling can be hard on animals, or you may simply want to take a humans-only trip. If that's the case, be sure to factor the cost of a dog boarder or pet sitter into your vacation budget. Sites like Rover.com offer discounts to first-time customers and for referring friends, so making sure your four-legged friend is well-cared for while you're away doesn't have to cost a fortune.
Keep Your Home Safe While You're Away
No matter where you decide to go for your vacation, make sure your house remains safe while you're enjoying some rest and relaxation. You can do this in several ways. Notify close friends and family that you'll be out of town, and ask them to drive by your house once in awhile just to make sure everything is okay. Temporarily stop mail and newspaper delivery so it won't pile up in your mailbox and on your porch. Uncollected mail and newspapers is a sign that no one's at home, and that's a beacon for any would-be robber who wants to run off with your new TV. Consider installing a home security system so the security company can notify the police if there is any suspicious activity at your house.
Going on vacation doesn't have to be expensive or stressful. With a bit of planning and research, you can find the perfect destination for your trip without stressing out and spending too much money.
Photo via Pixabay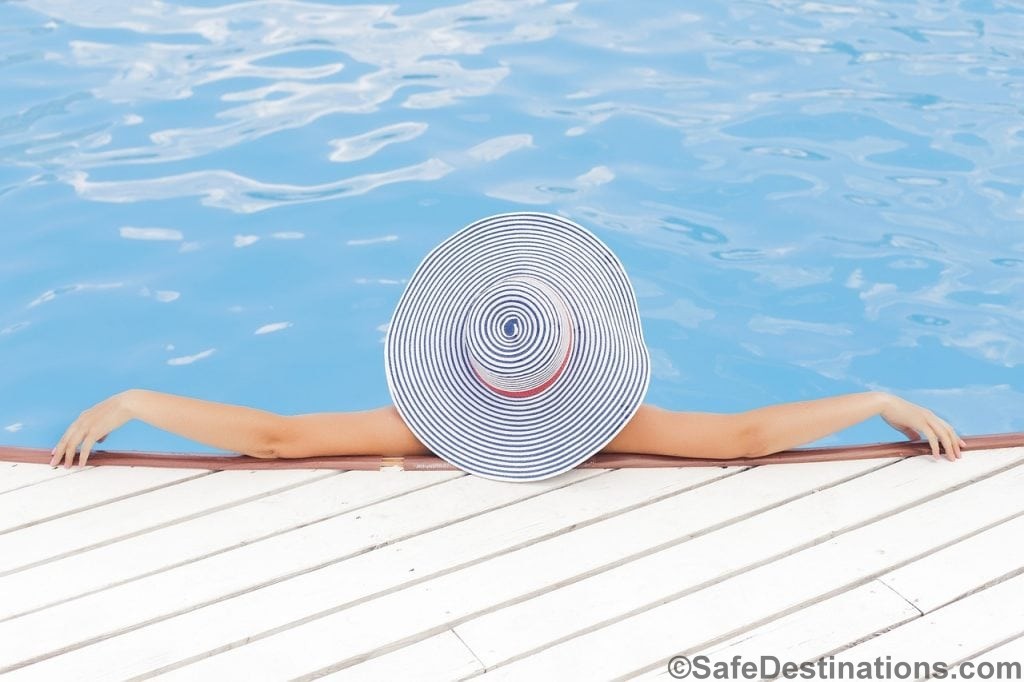 by Holly Perkins for Safe Destinations
---